September 16, 2023 at 2:54 p.m.
LongBow Women's Golf League wraps up season
---
   LongBow Ladies Golf League played a 9-hole event to complete its 18-week season on September 13.  Four groups teed off at 9:30 a.m. to play a Crazy hole-by-hole event. Each hole featured a different off-beat instruction, e.g., putt with the driver or tee off while blindfolded.
   Winners with low net on the "crazy" holes were MJ Black, Dianne Larson, Jeanne Major, Lynn Reinertson, and Mary Jo Schleif. Louise Hay won closest to the pin on Hole 2. Harriet Mouw's drive on Hole 9 was closest to the line. Hope Olson won both longest putt on Hole 5 and fewest putts with her driver on Hole 6.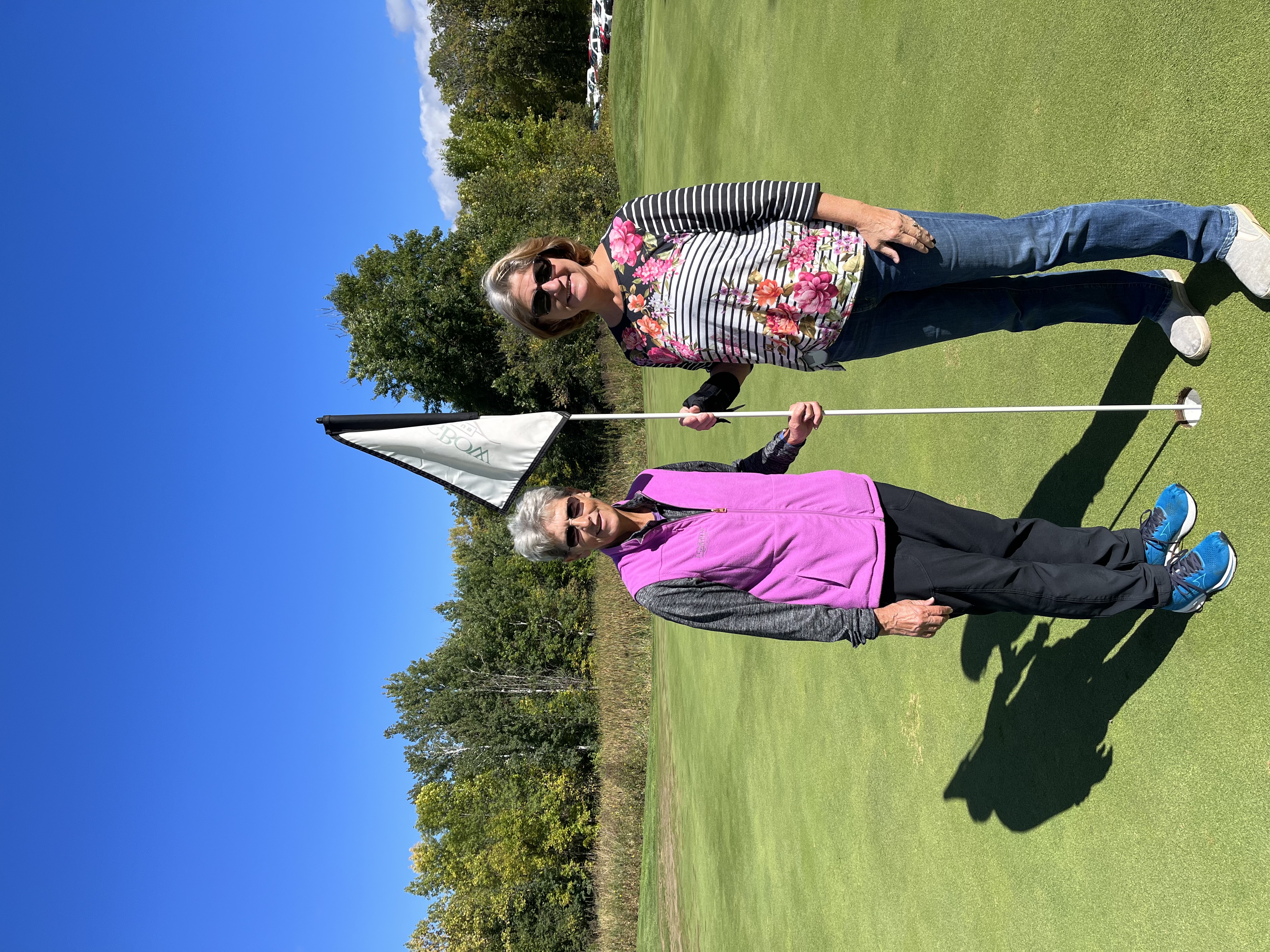 Pat Roush was named LongBow Ladies Golf League champion for 2023 with a two-round combined low gross of 173.  Kathy Severson, on the right, won low net league champion with her two-round total of 133. Photo submitted.
   Following a delicious catered lunch at the LongBow clubhouse, the 2023 league champions were named. Members may play in three qualifying rounds during the season. The best two of three are used to name the winners. The league champion is Pat Roush with a two-round total gross of 173. Kathy Severson won low net league champion with a two-round net of 133.
   Flight winners:  Members could win in only one category.
   Flight 1 (12-26 course handicap)
   Low gross: Mary Hagelie, 202
   Low net: Hope Olson and Kathy Newton tied with 154
   Flight 2 (27-32 course handicap)
   Low gross: Suzie Mandsager, 190
   Low net: MJ Black, 143
   Flight 3 (34-50 course handicap)
   Low gross: Louise Hay, 222
   Low net: Lynn Reinertson, 147
   Other awards:
Cindy Gross was named most improved player for the season.
The lowest gross during the season was an 80 by Pat Roush and lowest net was a 64 by Suzie Mandsager.
Members who had made birdies during the season (of which there were 20 made by eight golfers) received a ball marker.
---