November 10, 2023 at 3:39 p.m.
---
WALKER — Land Commissioner Mark Gossman shared an update regarding the quarantine area for the emerald ash borer and the impact it may have on firewood permits issued during the Tuesday, Nov. 7 County Board meeting.
   With the recent discovery of emerald ash borer south of Remer a quarantine area has been established as an area following the Crow Wing/ Cass County line to the south and the Aitkin/ Cass County Line to the east. The northern edge follows Minnesota Highway 200. The western edge follows Minnesota Highway 200 west to County Road 129 south to County Road 7 and County Road 7 west to Minnesota Highway 84. The western edge continues south on Minnesota Highway 84 to County Road 79 and east to the Cass/Crow Wing County Line. Please refer to the attached map.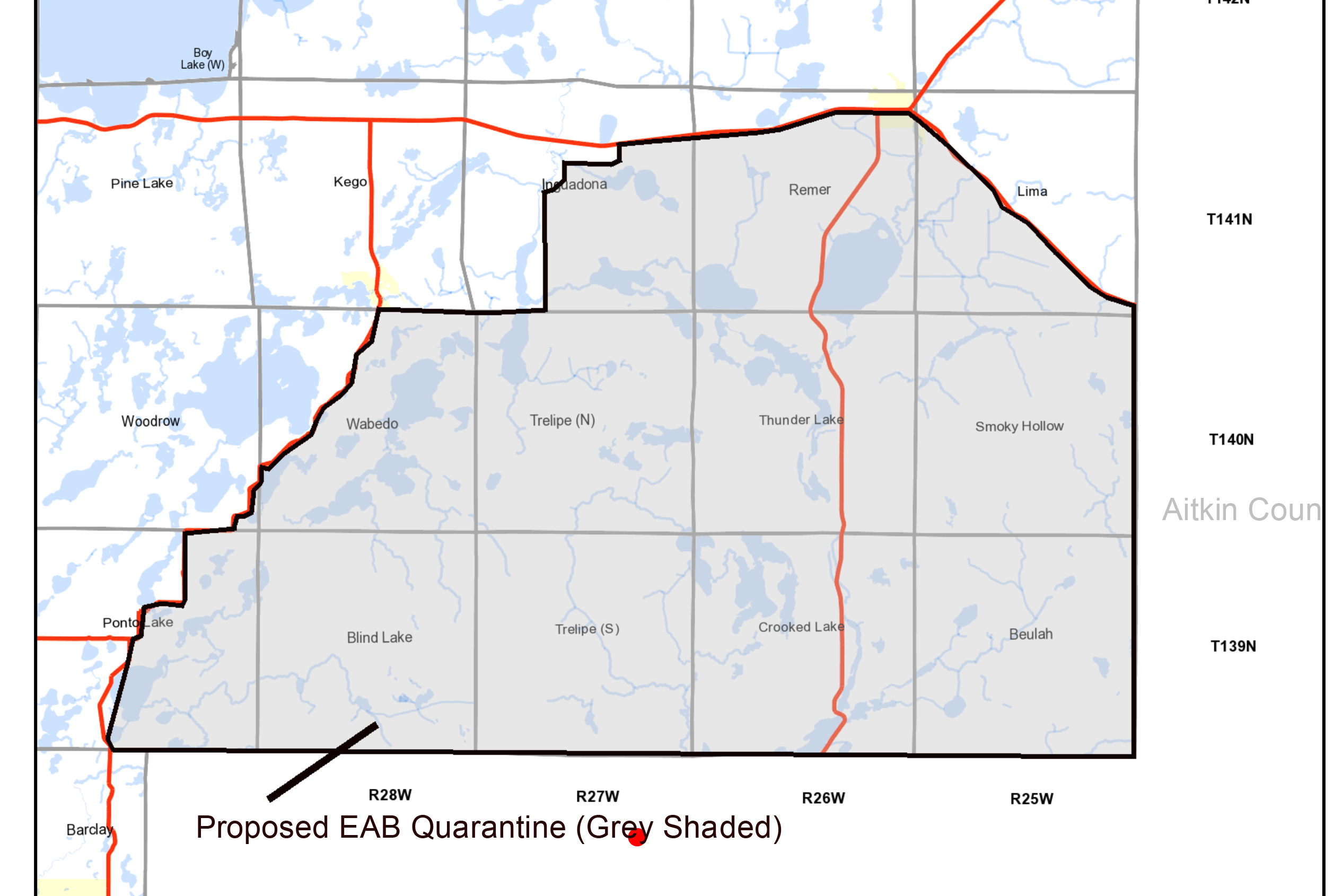 Gossman informed the board with the quarantine in place no firewood or ash material can be moved out of the quarantined area without special treatment and necessary permits. An informational meeting was to be held Thursday, Nov. 9 in which Gossman was going to find out how the quarantine will affect the issuance of firewood permits. Commissioner Rick Haaland inquired on managing tribal members to ensure they did not transport firewood out of the quarantine area as they do not need a permit to cut and transport firewood, no definite answer was given on this issue. 
   Commissioner's also received an update from Theresa Ebbenga, Minnesota Department of Natural Resources Northwest Regional Director. Ebbenga stated her and her team were attending local meetings to introduce themselves and give an overview of collaborations with the county. Some of the collaborations include habitat protection efforts to protect sensitive and critical habitats on aquatic management areas; important dam removal effort on the Woman chain and the development of Villier Park ecological baseline report incorporating site ecological detail and long-term vision. A few opportunities and challenges Ebbenga mentioned included the recent discovery of Emerald Ash Borer near Remer; expanding chronic wasting disease surveillance and continued coordination on Aquatic Invasive Species inspection, education, outreach and monitoring along with public water permits and shoreland management.
   In other business, the county board:
   • Recognized Jordyn Sullivan, Deputy Sheriff for one year of service.
   • Unanimously approved an Ordinance Regulating the Use of Cannabis and Cannabis Derived Products in public places within Cass County after the second public hearing and only receiving one written comment, which was in support of the ordinance.
   • Heard an explanation of the Green Acres Property Tax Deferral Impact from the Assessor's office.
   • Adopted a resolution supporting Minnesota Department of Transportation in updating a speed study along County State Aid Highway 5 in order to provide guidance for appropriate signage along the corridor.
   • Adopted a resolution approving an agreement with Minnesota Department of Transportation to participate in the federally funded County Road Safety Plan.
   The next meetings are as follows: Commissioner's board meeting 9 a.m. Tuesday, Nov. 21 at the Land Department  Meeting room in Backus and commissioner's board meeting 3 p.m. Thursday, Dec. 7, followed by a public hearing for the 2024 Cass County Fee Schedule and Budget and Property Tax levy beginning at 6 p.m. at the boardroom in the courthouse annex in Walker.
---