July 23, 2023 at 8:50 a.m.
---
   HOMEBROOK TOWNSHIP—University of Minnesota Extension Service recognized Greg and Dana Leverington and family as Cass County Farm Family of the Year during the Tuesday, July 18, Cass County Board meeting.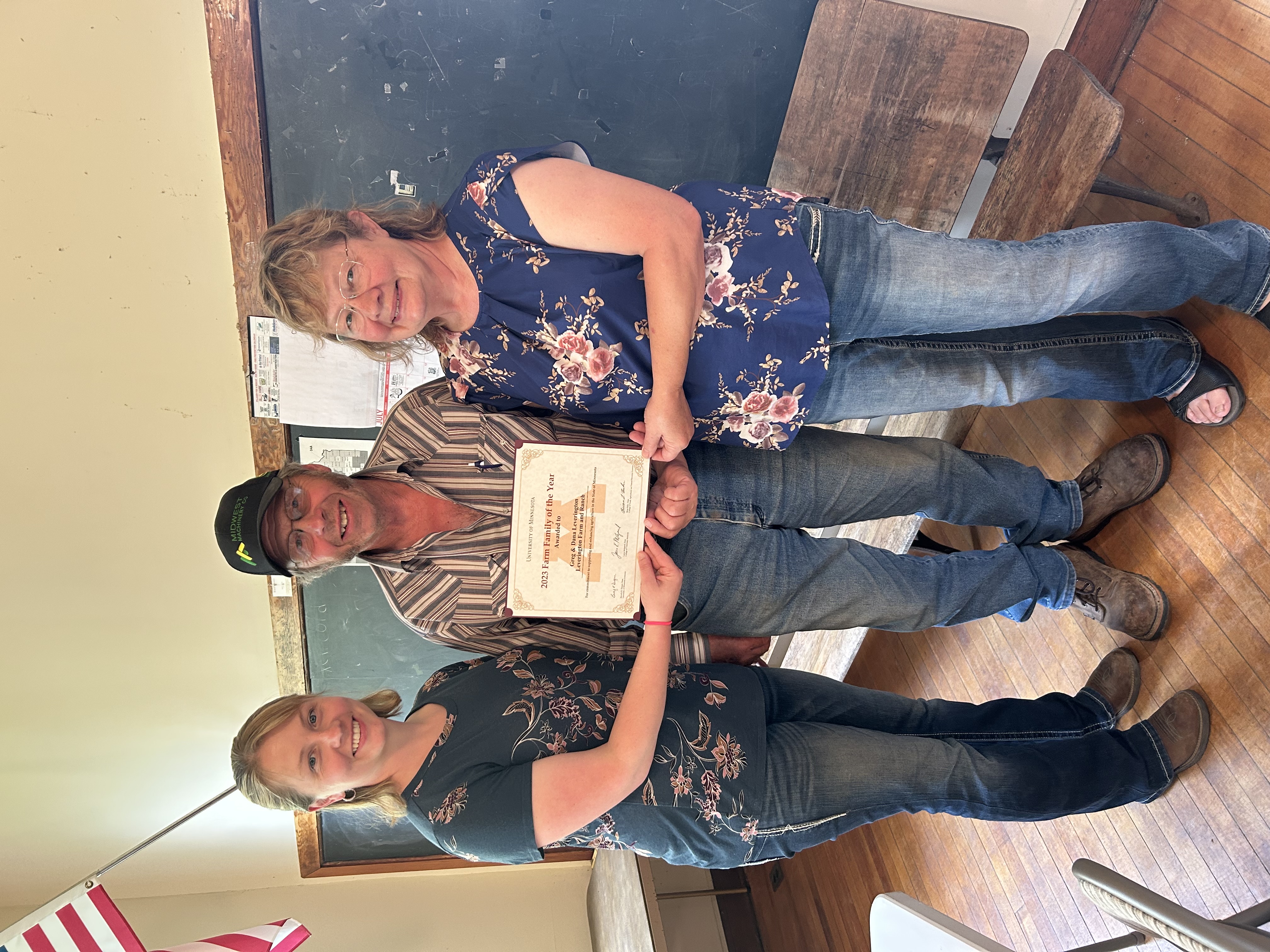 Cass County Farm Family of the Year, (L-R): Kristy Hughes, Greg Leverington and Dana Leverington. Photo by Katelyn DeLost.
   Extension committee member Greg Booth introduced the Leverington family and shared information on why they were chosen.  It was shared, back in 1903, Les Leverington purchased land one mile from the current Leverington Farm and Ranch. Glen and Rena Leverington then purchased 160 acres, a D-14 Allis-Chalmers tract and some black angus cows to begin the farm. 200 acres were added on to the farmstead at a later date.
   Currently their farm is 960 acres with 170 beef cows, 30 dairy cows, a small feed lot and backgrounding calves. The family also raises hay and corn for silage. In 1972 Greg, along with his parents, began milking cows and he has continued the practice for over 50 years. Dana, Greg's wife, helps by feeding and taking care of dairy calves along with his two daughters Jenny and Kristy, who help with calving, vaccination days, record keeping, haying and many other daily chores. Greg's son-in-laws have also joined in the family business by helping out with cattle and carpentry and mechanical work around the farm. 
   Other recognitions of the Leverington family is that Greg past served as secretary for the Minnesota Cattleman's association, and continues to be a member, Dana was a previous treasurer for the local township board and the Cass County Township Association, both Jenny and Kristy were Cass County Dairy Princesses, and are members of the Maple Hill Lutheran Church.
   The Farm Family of the Year Program works to recognize families who have demonstrated a commitment to enhancing and supporting agriculture in their communities.
   The commissioners also received an update from Tom Suppes, Minnestoa Counties Intergovernmental Trust (MCIT) consultant, regarding worker's compensation claims, property/casualty claims and cyber coverage being preserved.  Suppes also informed the board of dividends Cass County received from MCIT workers' compenstation division in the amount of $111,690.
      The next meetings are as follows: Commissioner's board meeting 9 a.m. Tuesday, Aug. 1 at the boardroom in the courthouse annex in Walker and commissioner's board meeting 6 p.m. Tuesday, Aug. 15 at Crooked Lake Township, Outing.
---